Imaging of beta cells
The insulin producing beta cells, located in the islets of Langerhans in the pancreas, play a key role in blood glucose regulation. In diabetes this blood glucose regulation is disrupted and repeated episodes of high blood glucose levels (hyperglycemia) occur. The underlying mechanism of hyperglycemia depends on the type of diabetes. Autoimmune destruction of the beta cell in type 1 diabetes (T1D) results in insulin deficiency causing hyperglycemia. In type 2 diabetes (T2D) hyperglycemia is primarily caused by insulin resistance, usually followed by loss of beta cell function and eventually beta cell mass (BCM). The changes in beta cell mass in both types of types of diabetes are poorly understood, due to the lack of a non-invasive method to measure the BCM.
We have developed a radiotracer that specifically accumulates in the beta cells and has high potential for in vivo measurement of the BCM. This tracer, radiolabeled exendin, has been characterized extensively in various animal models for both T1D and T2D and shows great potential for non-invasive measurement of the BCM. Besides measurement of the BCM in the pancreas, radiolabeled exendin could be used for monitoring beta cell loss in transplanted islets of Langerhans, a promising method for beta cell replacement therapy in T1D.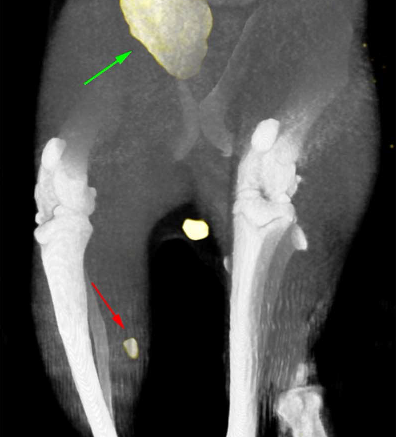 Furthermore, novel tracers (radiolabeled and fluorescent) for in vivo targeting of beta cells are developed and their performance is evaluated in animal models for diabetes and islet transplantation.
People
Funding
European Union
Juvenile Diabetes Research Foundation (JDRF)
Diabetes Fonds
National Institute of Health (NIH)
European Foundation for the study of Diabetes (EFSD)
Publications